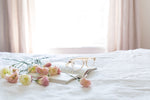 8 Great Books for Pregnant and New Mums
When I was pregnant for the first time, I read countless parenting books, blogs and just about any "how-tos" I could get my hands on in the hope of learning how babies "work" and of preparing for every unexpected thing that may be thrown my way as a new mum. Sound familiar?
Since then, and now looking in from the other side of motherhood, I've seen so many fantastic books published for pregnant women and new mums. Thankfully these are a refreshing - and most importantly kind and realistic - alternative to the traditional baby books that can leave you feeling well, inadequate, if you don't have a "textbook" birth or your little one doesn't fit into rigid sleep and feeding routines (my two certainly never did!).
Whether you're expecting your first baby or you've recently welcomed your little one into the world, here are my top picks of books to help guide you through from a calm pregnancy to a confident first few months as a new mum.
Covering everything from how to have a more mindful pregnancy, preparing yourself mentally and emotionally for a positive birth, how to establish breastfeeding and what to expect in the newborn days, I hope you'll find these books useful as you set out on the great adventure that is motherhood!
Chantelle x
The Headspace Guide to a Mindful Pregnancy
by Andy Puddicombe, RRP £14.99, Waterstones
I love the Headspace ethos and have found their guided meditations helpful both before and during motherhood. Co-founder, Andy Puddicombe, is one of the world's experts on mindfulness and this reassuring guide will teach you and your partner practical exercises to manage the anxieties and demands of becoming parents. Whether you're currently trying for a baby, are expecting, or have recently brought your new little bundle home from the hospital, this book will help you to create the most peaceful environment possible to welcome your child into.
The Second Baby Book
by Sarah Ockwell-Smith, RRP £14.99, Wordery
I know firsthand just how different pregnancy can be second time round, and having another baby definitely shifted the whole dynamic of our family. In this incredibly helpful book, Sarah discusses how to manage a second pregnancy and create a happy home for both your firstborn and your new arrival. From considering when's the right time to have a second baby to common worries like how to involve your eldest and introduce them to their new little brother or sister, this book will arm you with knowledge, confidence and excitement for what lies ahead.
Give Birth Like a Feminist: Your Body. Your Baby. Your Choices
by Milli Hill, RRP £14.99, WHSmith
Being pregnant for the first time often comes with nervous anticipation as your due date approaches, with part of the apprehension around labour coming from lack of knowledge. This empowering book from Milli, founder of The Positive Birth Movement, clearly explains the facts and the options available to you, covering topics such as how to make a birth plan that will help you feel confident and in control, your rights during childbirth, plus how to look after yourself after birth. This book will help you to actively exercise your right to make choices around your baby's birth, and will change the way you think about childbirth for the better.
Your Baby, Your Birth
by Hollie de Cruz, RRP £12.99, Wordery
I found hypnobirthing invaluable during both of my pregnancies and have no doubt it's what kept me calm during a rather eventful first birth. While it might still be considered 'fluffy' to some, hypnobirthing's simply a way of arming yourself with tools – from positive affirmations, to breathing techniques and visualisations – to help you approach labour calmly and confidently. Written by founder of The yesmum® Birth Project, Hollie, this down-to-earth book features invaluable anecdotes and exercises along with inspiring real-life stories of labour and birth. It'll help you prepare for a positive birth experience and to trust in yourself and your instincts as a new mum.
The Baby Feeding Book: Your Essential Guide To Breastfeeding, Bottle-Feeding and Starting Solids With Confidence
by Vanessa Christie, RRP £14.99, Waterstones
As a new mum, I received a lot of conflicting advice about feeding my baby. This fantastic book, written by lactation consultant and founder of The Parent & Baby Clinic Vanessa Christie, dispels the myths and gives you expert information, practical tips and stories from other parents, to help you feed your little one with confidence and in a way that suits you both. This one's for you if you've found yourself up in the early hours googling: What's the difference between breastmilk and formula? Should I top-up feeds so my baby sleeps longer? And what exactly is baby-led weaning?
The Little Book of Self-Care for New Mums
by Beccy Hands & Alexis Stickland, RRP £12.99, Oliver Bonas
I can't stress enough how important self-care is once you're a mum! Written by a midwife and a doula, this book will be your handy survival guide to managing the rollercoaster of becoming a new mum, and making sure that you're taking care of yourself emotionally and physically. With invaluable tips and tricks to boost your confidence and calm frazzled nerves, achievable ways you can practise self-care and nourish your postnatal body, plus answers to all those questions you may be too embarrassed to ask your GP or midwife, this book even features 5-minute fixes to restore your sense of humour (one thing that does bounce back, I promise!).
Happy Mum, Happy Baby: My Adventures into Motherhood
by Giovanna Fletcher, RRP £10.99, Wordery
Focusing on being a happy and confident mum can make for a happy baby too, but that doesn't necessarily mean having it all together (I certainly don't!) - sometimes it means letting go of "perfection" and being easier on yourself. This book is a boldly honest, humorous and very personal account of family life by vlogger and TV presenter, Giovanna Fletcher. It's not often you come across an uncensored celebrity account of anything, especially parenting, so it's no wonder that this Sunday Times Number One Bestseller has now become a number one podcast, which is also well worth a listen.
Mind Over Mother
by Anna Mathur, RRP £10.65, Amazon
I first came across Anna, a psychotherapist and mum of three, on Instagram and was immediately drawn in by her raw honesty and infectious humour about motherhood, womanhood and living with anxiety, which have given me so many "a-ha" moments of self-realisation. Whether you've suffered with anxiety in the past or have found yourself feeling overwhelmed with the prospect or recent reality of becoming a mum, this book will help you to unpick what's really going on in your head so you can reframe your thinking and transform your experience of motherhood.