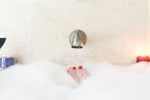 Self-Care Ideas for Busy Mums
Have you got friends who read two books a week, do yoga before breakfast, go for a run every evening and can't stop talking about how great it is for your mental wellbeing? Me too... and they usually don't have children.
We all know how important it is to take care of ourselves, especially as parents – when our own wellbeing is looked after, we're more patient, loving, and carefree with our little ones.
But knowing and doing are two separate things. Personally, I get stuck in a cycle of "I should…", "I will…", "I didn't manage to today, definitely tomorrow", "Starting next week…". Sound familiar? How on earth are we supposed to fit it in?
The juggle is real and there are never enough hours in the day! But if you can find ways to make better use of the little snippets of time you do have, you'll feel all the better for it.
So, here are some ideas to help you take care of yourself and your mind, whether you've got 2 minutes, 10 minutes or 30.
Chantelle x
Relax in 2 Minutes
DRINK A GLASS OF WATER
Water makes up 60% to 70% of your total body weight, so it's clear to see why staying hydrated is important for your health – it clears your skin, fights fatigue, protects your muscles, helps with achy joints, and much more! If you're pregnant or breastfeeding your water consumption also has an impact on your little one's wellbeing too,  so it's even more important to remember to drink water.
CLOSE YOUR EYES
Closing your eyes can help you block out the world for just a few moments. Put your fingers in your ears and take some really deep breaths. I can't promise that when you open your eyes whatever's stressing you out will be gone but hopefully your senses will feel a bit refreshed and better able to cope with it. This is a great one to do in that moment of silence while you've snuck away to the loo.
Massage You Hands
If you're feeling fidgety, a short hand massage can help relieve anxiety. Rub your favourite cream into your palms, massage each joint and the webbing between your fingers. Flex your wrists and clench and release your fists.
Feel Refreshed in 5 Minutes
DRINK YOUR MORNING COFFEE OUTSIDE
Whether you sit out on your patio or just perch by the back door or an open window, fresh air plus a caffeine kick will help to blow away the cobwebs of a restless night.
ASK FOR HELP
Something us mums don't do enough, especially new mums, is ask for help! We're usually so busy spinning plates that we can't see the obvious ones our partner, parents, or friends might be able to take on for us. Take 5 minutes to ask someone for help – those few minutes could save you 20 minutes, freeing you up for some of the other self-care ideas below.
HAVE A TICKLING COMPETITION
A good hearty laugh relieves physical tensions, decreases stress hormones and leaves your muscles relaxed for up to 45 minutes. It can also help you cope with difficult situations. Feeling stressed? Toddler having a tantrum? Try initiating a tickle competition and you'll be rolling around in fits of giggles in no time!
SOAK UP THE SUN
How amazing is the feeling of warm sunshine streaming down on you? It's great for your health too (in moderation). It increases your vitamin D production which in turn boosts your immune system, it's linked to lower blood pressure and it can have an anti-depressant effect. Pop on some suncream and a hat, line up some toys for the kids and just sit and close your eyes for 5 minutes – I'm being realistic here because we all know they can't go longer than that without a squabble but even 5 minutes will do you good!
HAVE A BOOGIE TO YOUR FAVOURITE SONG
Play music out loud and get your toddler to join in or block the world out and create a personal bubble by listening through headphones. Either way throw some shapes to get your heart pumping and blood flowing.
Relieve Stress in 10 Minutes
MEDITATE
Headspace have a few great free guided meditations available on their website at the moment, all of which you can complete in 10 minutes or less. These are great for listening to during naptimes, with the knowledge that you'll still have plenty of time to tidy up or to get that load of washing on afterwards.
PUT ON A FACE MASK
It might not be as relaxing as being sat in a spa but putting on a face mask is a great way to squeeze in some pampering at home. While the mask is working wonders on your skin, you'll be handsfree to multitask and your little one will probably find mummy's alien mask entertaining too.
CALL A FRIEND
We get so used to messaging, it's rare to actually call and check in on a friend. Take 10 minutes to ring someone you haven't spoken to in a while. Even if it's just a "hey, how's your day going?" it's nice to hear a familiar voice.
DO THE WASHING UP
I know what you're thinking but bear with me… Monotonous chores like washing up take very little brain power and can almost be done on auto pilot. There's something about repetitive actions that's really relaxing and great for easing anxiety. Clear your mind of all other thoughts and tune into the whole experience of transforming the dishes from dirty to gleaming: focus on your breath, the temperature of the water on your hands, the smell of the washing up liquid, and the repetitive motions as you scrub, rinse and repeat.
TAKE A WALK AROUND THE BLOCK
Sometimes when you're stressed you just need to step away from the situation. Ask your partner to keep an eye on your little one, or if you're on your own take your baby along in the buggy, and go for a quick walk around the block. Visualise the stress falling away from you as you walk, imagine you're leaving a trail on the pavement behind you and come back to your front door with a fresh mind and fresh perspective.
PUT ON A BIT OF MAKE-UP
For me this has always been my non-negotiable since becoming a mum. Not because I feel I have to wear make-up but because I really enjoy taking the time to sit and focus as I apply it. Even just putting on a bit of concealer and mascara in the morning helps to top your self-care tank up.
Unwind in 20 Minutes
DO SOME YOGA
I know I gave yoga a bad rap in the intro but if you see it more as a form of exercise than a blissful mindfulness technique, there's a way to fit it in around your little ones. Over the past few weeks at home I've been doing the Cosmic Kids Yoga YouTube sessions with my 3 year old. I miss the serene prenatal yoga sessions I did during my first pregnancy, and the Downward Dog isn't nearly as relaxing with a pre-schooler jumping on your back, but I do still feel refreshed and a little looser afterwards.
DECLUTTER
A clearer space makes for a clearer mind so take a little time to declutter. I don't mean a huge spring clean, instead choose one little area that's been bugging you and sort it out – maybe that kitchen cubby hole where all the odds and sods seem to gather or that drawer of clothes that don't fit you anymore or don't make you feel good.
WATCH THE SUNSET
When was the last time you sat and watched the sunset? For me, I think it was a whole 7 years ago on a beach in Vietnam on our honeymoon! During May the sun sets between 8.30pm and 9pm in the UK, so once you've put your baby down to sleep why not pop on a cosy jumper and sit outside with a glass of wine?
TREAT YOURSELF
We're always so busy buying things for our children but what about us? Have a browse online and buy yourself a little treat, maybe even use it as an end of the month incentive for successfully getting into good self-care habits. My Silicone Teething Necklaces are a colourful pick-me-up. They're great for dressing up everyday outfits plus they're baby-proof and totally safe for teething gums to gnaw on.
TAKE A LONG SHOWER
When we're relaxed and have increased dopamine flow we're more likely to have insightful thoughts. A long hot shower is a great trigger for both and might help you get a new perspective on things that have been weighing on your mind. I've recently got into the habit of listening to podcasts in the shower as a way of digesting new ideas and small business advice I otherwise wouldn't have time to. If you're looking for a podcast that's relevant to motherhood, I'd definitely recommend the Positive Wellbeing for Mums Podcast from Isabella and Us.
Indulge in 30 Minutes
HAVE A BUBBLE BATH
Perhaps the holy grail of relaxation for mums? I certainly don't have baths as often as I'd like (don't worry, I do shower!) because I'm usually exhausted by the time my boys are in bed. But when you have the time and energy, there's nothing like the isolation, quiet and comfort of a warm bath. Light some candles, pour in some bath salts (use pregnancy safe products if you're expecting) and relax. The bonus is you'll sleep so much better afterwards too.
GET CREATIVE
Crafting can not only reduce your stress levels, it also gives you a great feeling of accomplishment, helping to improve your mood. The rhythmic pattern of some crafts means it's easy to get completely absorbed in what you're doing, which can have a calming effect, much like meditation. My new Embroidery Kits are a great way for you to relax while creating a beautiful nursery decoration to hang proudly in your baby's room.
SLEEP
Not getting enough sleep can have a huge impact on your health and wellbeing. "Sleep when your baby sleeps" never worked for me first as I struggled to get either of my boys into a regular nap routine. However you can try to make the most of the (slightly) more reliable night time hours by going to bed half an hour earlier. It can be so tempting to stay up and unwind by watching mindless TV but your body will thank you for the genuine rest and recuperation.
COOK YOUR FAVOURITE MEAL
Cooking doesn't have to be a chore - instead of rustling up your usual midweek filler, make your favourite meal instead. Pancakes for dinner? Great idea! Get your partner to occupy the kids while you enjoy the time to yourself. Put some music on and sing and dance while you chop.
So, my advice to you, both new parents and pros, is try to be inventive with those little pockets of time. You're important! Maybe just start by doing one little thing a day that takes care of you and keep doing it until self-care becomes a habit.