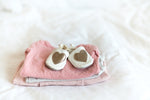 How to Create a Capsule Wardrobe for Your Baby
Picking out cute little onesies, rompers and accessories, then washing and folding them neatly into drawers has to be one of the most fun parts of preparing to become a new mum. And as your baby grows to the next clothing size and new seasons approach, you get to do it all over again. With clothes often sized in 3 month intervals, this means a wardrobe update every 12 weeks during your baby's first year!
It's so easy to get carried away though! I can't tell you how many bags of outgrown clothes we have stored away in our loft (seriously, I've lost count, I can't even tell you) and have recently shipped off as generous hand-me-downs to family and friends. Babies grow so quickly that we've always had a bag in the corner of each of our boys' rooms with clothes that are either on their way in or out. 
With a constant turnover of clothes, it can be hard to remember what you do and don't have or need, quickly leaving you with what seems like a never ending supply of onesies yet always needing to rummage through the dryer mid-cycle to find bottoms.
Baby capsule wardrobes to the rescue! The ideal solution for style-conscious mums: a small, versatile, intentionally curated collection of baby clothing that you REALLY love. With a capsule wardrobe less is definitely more; instead of drawers stuffed to the brim with cheap essentials, by buying a small number of higher quality, interchangeable staple items you free up space (and money) for some really special statement pieces.
A capsule wardrobe also helps you to shop more consciously, really thinking about what you need and which items match with which, rather than finding yourself with piles baby clothes but regularly dressing your little one in the same few coordinating outfits. It's also a great way to prepare for holidays and staycations, when you really want to treat your little one to a few new outfits but need to resist going overboard!
Wondering where to start with creating a baby capsule wardrobe of dreams? I've put together a list of basics to get you started!
Chantelle x
Baby Capsule Wardrobe Basics
4-6 SLEEPSUITS
Staple items, especially for younger babies, sleepsuits can also double up as no-fuss daytime outfits so it's worth picking a few that have pretty designs and can match with your chosen outerwear too. Consider sleepsuits with zips instead of poppers if you have twins, triplets, or older children to dress in the mornings too – the last thing you want is having to align lots of fiddly poppers when you've got your hands full!
Set of 3 sleepsuits, £15.50, Marks and Spencer
8-10 ONESIES/BODYSUITS OR TOPS
Don't be afraid to spend a little more on colourful/patterned bodysuits. Kimono style bodysuits add a simple but elegant crossover detail, while making dressing easier as you don't have to squeeze a tiny neck opening over your baby's head. Neutral, muted colours and subtle patterns will add an extra touch to prettiness while also being discreet enough to still match with other items. Choose a mixture of long and short sleeved tops depending on the season.
Set of 3 long sleeve bodysuits, £24, Petit Bateau
3-5 PAIRS OF TROUSERS, LEGGINGS, OR SHORTS
Soft materials and stretchy waistband are key when shopping for bottoms. Also be sure to check the inner seams to make sure there aren't any rough edges that could irritate or rub against your little one's delicate skin while they're on the move. Bonus points if trousers are lined with no exposed seams at all!
Grey baby leggings, £19.50, Mori | Denim jeggings, £7, John Lewis | Kitten print bloomer shorts, £22, The Wild and The Tame (Bloomers will be available again this summer!)
2-3 DUNGAREES, ROMPERS OR DRESSES
Of course pretty dresses are always irresistible, and all-in-one dungarees and rompers are a great unisex option which look super cute on both boys and girls. Either can be worn with or without a bodysuit depending on the weather. For dungarees, choose long or short legs depending on the season and, as with trousers, check for any exposed inner seams. Crotch poppers are handy so you can roll the legs up for nappy changes but I always got on just fine with pairs that don't have poppers and never really missed the extra fiddling.
Mustard Corduroy Dungarees, From £48, The Wild and The Tame
1-2 CARDIGANS OR SWEATERS (DOUBLE THIS IF BUILDING A WINTER WARDROBE)
Young babies get cold pretty easily as they can't regulate their body temperature efficiently, so outer layers are important to consider all year round – especially with our unpredictable British weather! I always size up for my boys so that cardigans can be used as loose fitting, lightweight coats in the summer and then they'll be a nice snug fit by the time winter comes around.
Yellow knitted cardigan, £23, Boden | Grey knitted jumper, £10, Marks and Spencer
6-8 PAIRS OF SOCKS OR TIGHTS
With younger babies often only wearing socks on their feet, you can afford to play with a mixture of plain and patterned socks or tights, so you have the option to add a fun pop of colour to an outfit.
7 pack of socks, £19, Boden
1 PAIR OF SOFT SOLED SHOES (OR STURDIER FIRST WALKER SHOES FOR THOSE WHO ARE ALREADY TODDLING AROUND)
While pre-walking babies don't need to wear shoes, once they start crawling, standing or cruising furniture you might like a little more protection around their tiny toes and some grippy non-slip soles. Look for shoes that will stay on wriggly feet; ones with elasticated heels or styles that sit high up and close around the ankle.
Pre-walker shoes, £15, The Wild and The Tame
Autumn/Winter Additions
3-5 WHITE SHORT SLEEVE BODYSUITS AS A BASE LAYER
Add an extra few plain bodysuits to be worn underneath tops or sleepsuits as an additional layer on chillier days and nights. They're also great to pair with more colourful bottoms for a clean and crisp look.
Set of 5 short sleeve bodysuits, £34, Petit Bateau
1 COAT
One warm coat to see your little one through autumn and winter. I always buy a size up in coats for my boys to make sure they'll get plenty of wear out of them, well into the April showers season.
Duck print raincoat, £36, JoJo Maman Bebe
1 HAT & MITTENS
A cute little bobble hat or a knitted bonnet if you prefer a traditional look, plus a pair of mittens to keep little hands warm.
White and Grey baby hat and mittens, £16, The White Company
Spring/Summer Additions
1 SWIMSUIT
One swimsuit or swim nappy so you're always ready for some paddling pool fun.
Whale print swim nappy, £16, JoJo Maman Bebe
1 HAT/BONNET
A sun hat or cotton bonnet for sunny days.
Broderie anglaise cotton bonnet, £10, JoJo Maman Bebe
If you're feeling inspired and are looking for some special statement pieces for your baby's capsule wardrobe, why not check out my new collection of limited edition handmade clothing and accessories.