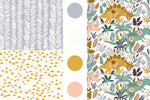 How to Plan Your Nursery Around a Fabric Print
If you've just found out you're pregnant (congratulations!) and you don't know where to start with converting your guest room or study into a beautiful nursery, this blog will teach you foolproof ways of combining patterns, colour and texture to create a magical space for your baby.
First things first, don't make the mistake of starting by picking paint colours! Doing this can be really limiting and could leave you struggling to find furniture and accessories that match perfectly (we've learnt this lesson while renovating our own home, and our sofas are still bare years later because we still can't decide which colour or pattern cushions will work best in our living room).
Follow these steps instead and you'll have a stunning nursery scheme in no time!
Chantelle x
Focus on a Feeling and Build a Nursery Decor Mood Board
Take a step back and start by thinking about how you'd like your baby's bedroom to FEEL. Cosy and cocoon-like or light and airy? Serene and relaxing or fun and energetic? A scandi nursery? Or Rustic, Vintage or Boho? Glam and girly or a gender neutral nursery?
Create a Pinterest board and start pinning children's interiors, nursery furniture and decor which embody the feeling you're looking to create. 
Pick Your Lead Piece of Furniture or Interior Decor
Now you're going to use the trick many interior designers use. Drawing inspiration from your keywords and Pinterest pins, take your time to find and purchase one patterned item which will become the "lead piece" within your nursery - the piece which will have the most colour.
It might be decorative wallpaper, curtains that make your heart flutter, a statement rug or cot bedding (maybe you've fallen in love with one of my Cot Blankets?). Either way, with some simple interior design tricks you can build around this piece to design a truly Insta worthy nursery for your little one.
Decide on a Colour Scheme for Your Nursery
Once you've chosen the lead piece, pick two or three colours from the pattern to become the colour palette for the room.
Taking our Roarsome Cot Blanket for example, you might choose warm pink, cream and lavender blue for your colour scheme, adding pops of mustard yellow through accessories dotted around the space.
The walls will make the biggest statement in the room, so think back to how you'd like the room to feel. If you want to create a calm and airy space, pick out one of the softer colours from the scheme for the walls - in this case cream or lavender blue. If it's fun and cosy you're going for then choose a brighter wall colour, with neutral colours as the accents - consider warm pink walls or even mustard yellow if you're feeling bold!
Mix and Match Patterns for Visual Interest
Mixing patterns will not only create visual interest but also stimulate your baby's development. Interior designers often combine three patterns within a room's design, focusing on scale and colour.
Working from your lead piece, choose a second print which includes similar colours but in a pattern that's at a contrasting scale. For example, a window blind featuring a small scale triangle pattern would sit well alongside the larger illustrations of the Roarsome Blanket. The third pattern should unite the first two, so perhaps go for a lavender blue and cream chevron patterned rug or a cushion for your nursing chair. 
Combine Different Textures Through Soft Furnishings
Make your little one's room a tactile and sensory space by combining different textures. Think shaggy rugs, silky satins, rattan baskets and luxurious velvet cushions. 
Add Finishing Touches To Your Baby's Room
Add finishing touches with a lamp, bookshelves, colourful changing table storage, a cot mobile, framed prints or wall hangings in colours that compliment your main colour scheme.
Time to Get Pinning Your Nursery Decor!
Now you've got plenty of inspiration and some insider tips and tricks, it's time to get pinning! Start by pinning this blog (click the icon below) so you've got it saved.
And while you're drooling over dreamy nurseries and children's bedrooms on Pinterest as you create your vision board, try looking for the "lead piece" in the pictures. Not every room will have one but now you're looking for it, you'll notice that a lot of rooms are designed around a single item.
Happy nesting!
Chantelle x